TWIN TWIST
Series – Titans Return
Size/class - Deluxe
New/remould/redeco - Redeco of
Topspin
Wave - 5
Released here – August 2017
Approximate Retail Price - $25
Approximate Size - 15cm to top of head, 16cm to top of arm-mounted treads
Allegiance - Autobot
Alt-mode – Drill machine
Main Features/Gimmicks – Headmaster
Main Colours – White and blue
Main Accessories – 2 guns, "Flameout" Titan Master
Note: This toy is a redeco of Titans Return Topspin. See
Topspin's review thread
for comments on the original mould. This review will focus on differences made.
This toy pretty much carries over all the qualities of Topspin, so if you love Topspin then you're gonna love Twin Twist, but if not then you're probably not going to like Twin Twist. Simple as that really.
There are at least two things about Twin Twist that I think was better done with Topspin though.
1/ In robot mode, Twin Twist's cockpit canopy doesn't seem to lock into place and is prone to flipping open. Topspin's doesn't have a lock either, but the narrower pontoons just naturally help to keep the canopy in place. Twin Twist's drills are narrower and more widely spaced apart, and thus doesn't serve to hinder the movement of the canopy in robot mode.
2/ Flameout's colours or lack thereof.
Having said that, Twin Twist does improve over Topspin in at least one way - no bobblehead!
Overall an excellent toy.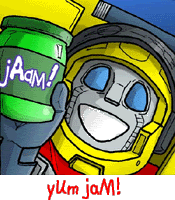 Pictures
Comparison with G1 Twin Twist
Comparison with TR Topspin
Vehicle mode
Comparison between Freezeout and Flameout
...am I the only one who wishes that they were named Salt-Man X and Salt-Man Z respectively?