Inspired by
this thread
, here is a list of what I find are common confusions between Australian and American English. Typically from kids (I guess because they get confused with a lot of American media that they consume) but occasionally from adults.
AU = biscuit / US = cookie
AU = scone / US = biscuit
AU = centre, fibre, sabre, theatre, metre (unit of measurement) etc. / US = center, fiber, saber, theater, meter etc.
Note that we spell "meter" if we're referring to a device used for measuring, e.g. electric meter, water meter etc.
AU = colour, favour(ite), flavour, mould, rumour etc. / US = color, favor(ite), mold, rumor etc.
AU = footpath / UK = pavement / US = sidewalk
AU = nappies / US = diapers
AU = pram / US = stroller
AU = rubbish & rubbish bin / US = trash & trash can
AU = boot (vehicle) / US = trunk
AU = petrol(eum) / US = gas(oline)
AU = aluminium / US = aluminum (metal) & aluminium (element)
Then there are some differences in pronunciation (aside from obvious accent differences. Australian English is more clipped than American English. Examples include...
INTEREST: AU = "in-chresst" / US = "inner-rest"
FEBRUARY: AU = "feb-bree" / US = "feb-brew-wary"
LIBRARY: AU = "lye-bree" / US = "lye-breh-ree"
Although Americans sometimes clip consonants that we pronounce, such as "inter" which the Yanks pronounce as "inner."
e.g. (US)
international = "inner-national"
Although this can sometimes happen to speakers of Broad Australian English, especially if they're speaking quickly, and we can hear words like "winter" sounding like "winner." etc.
We Aussies also have a peculiar way of pronouncing double Ts in the middle of words as a soft "d" sound, whereas most other Anglophones (e.g. UK, US) pronounce it as a definite "t." The soft "d" is really a sound that occurs midway between a true "t" and "d" sound, or what is technically known as an
intervocalic consonant
.
e.g.
butter: Non-AU = "but-ter" / AU = "budder"
water: Non-AU = "war-ter" / AU = "war-der"
And to make things confusing for people who are learning English here as a second language, we're not even consistent with this rule. We pronounce words like "button" with t's but "bottle" with
dd
. Try saying this sentence aloud and listen to the way you pronounce your T's:
"Someone stuck a button on the bottle."
There are times where we have clearly distinct pronunciations for words which sound the same to Americans. For example, "caught" and "cot" sound completely different in Australian English but are pronounced the same by Americans. Although I personally found this confusing when I was exposed to American cartoons as a kid and wasn't familiar with hearing the American accent. When I first saw the Transformers cartoon I heard Shockwave's name pronounced as "Sharkwave," since the American pronunciation of "shock" sounds like the Australian pronunciation of "shark." Although I knew that the character was called Shockwave in the comics and in toy catalogues (or as Americans would say, "catalogs"), it really confused me.
Another one that bemuses me is how Americans use the word "ass" (rhymes with "mass") to mean both "ass" and another word-that-rhymes-with-sparse. I find it perplexing when I sometimes come across Aussies who mispronounce "ass" as rhyming with sparse and misusing "ass" as a synonym for the word-that-rhymes-with-sparse as Americans do. Americans of course don't seem to understand that "ass" and the word-that-rhymes-with-sparse are two entirely different words with different meanings and different origins. The word-that-rhymes-with-sparse comes from English (aers) and means "buttocks." "Ass" on the other hand comes from Latin (asinus) and means "donkey," but the Romans also used it to mean a stupid person. Hence why Kickback's motto ("Friend is another word for fool") translates as,
"Amicus mihi asinus"
in Latin.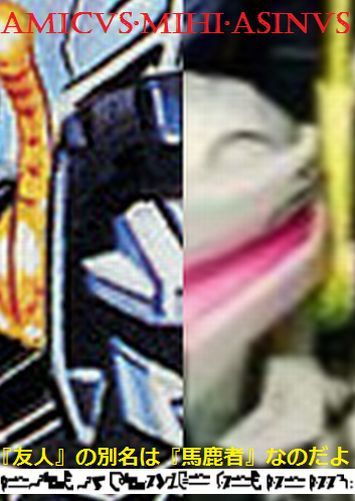 It literally means,
"Friends are asses to me."
Compare this with the Latin saying, "Proximus egomet mihi," which literally means, "The closest one
to me
is me myself," but more commonly translates as "Charity begins at home," or "Every man for himself." I use both "ass" and the word-that-rhymes-with-sparse, but non synonymously with each other.
e.g. "That dumb-ass got his (word-that-rhymes-with-sparse) kicked."
And again, ensuring that the Latin-based word always rhymes with mass, gas, wrasse and lass, and never with class, grass, glass or pass. Although the "a" in the word-that-rhymes-with-sparse originally was the same as the "a" in words like apple, ash and angry, but it was a long drawn-out vowel and I believe the "r" was unreceived, so it was never pronounced like "ass."